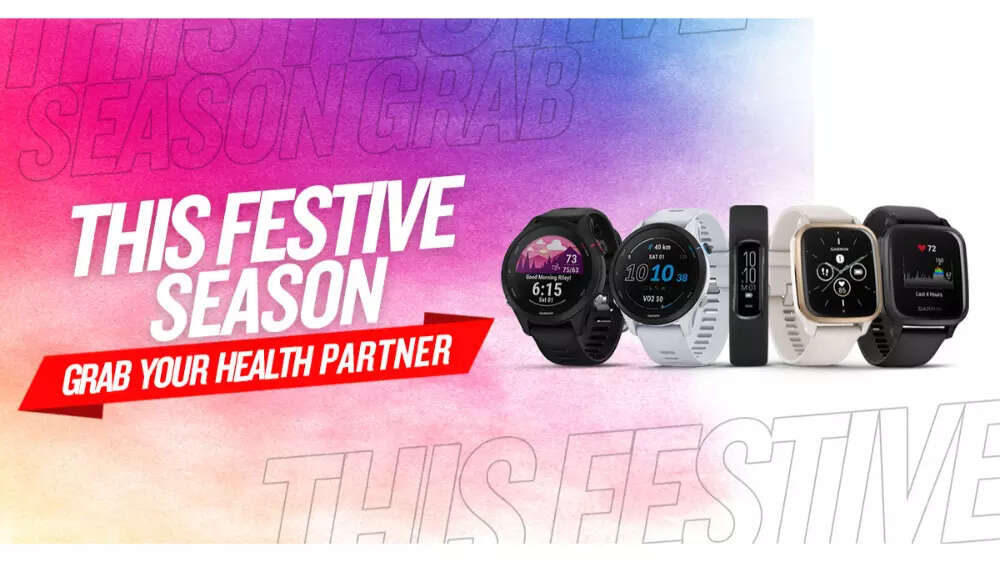 US-based smartwatch maker Garmin is celebrating several festivals across North and South India including — Holi, Ugadi, Gudi Padwa, as well as International Women's Day. The company has announced offers on select smartwatches. Garmin India is offering special discounts of up to Rs 7,000/ or 47% on select wearables which include –Garmin Venu Sq, Venu Sq Music and Vivosmart4. The company is also offering other gifts like Tifosi sunglass and Edifier True Wireless Bluetooth headset or a 25% discount coupon on the purchase of Forerunner 255 Series and Venu Sq2 Music.
Garmin March Festive Season offer
: Availability
Garmin March Festive Season offers are already available and the sale will run through March 31. Customers can avail of these offers and discounts by buying Garmin wellness and fitness smartwatches from both online and offline channels.
The offline channels include — Garmin Brand Store and Garmin Shopping Shop, Croma, Vijay Sales, Helios, Just-In-Time, Zimson Watch, Kamal Watch Co., Ruswic Stores, Mastermind, Vishal Trading, Cyclofit, Decathlon (Bengaluru), general trade and all leading watch, sports and bike retail outlets. Meanwhile, users can also avail of these offers on online channels like — Amazon, Tata Cliq, Flipkart, Synergizer and Bhawar.com.
Garmin March Festive Season: Offers and discounts
Products
Colors
Price
March Festive Season Offer
Buy & Explore Product
Forerunner 255
Slate Grey/Tidal Blue
₹39,490/
•TIFOSI Sunglass worth ₹5,490/
Or
•25% Discount Coupon2 (applicable on WEBER / ECHOLAC Products)
http://bit.ly/3Zkct42
Forerunner 255S
Light Pink/Powder Grey
Forerunner 255 Music/255S Music
Black
₹44,990/
•EDIFIER True Wireless BT Headset worth ₹4,990/
Or
•25% Discount Coupon2 (applicable on WEBER / ECHOLAC Products)
Venu Sq 2, Music
Black/Slate/French Gray/Cream Gold/Ivory/Peach Gold
₹33,490/
•EDIFIER True Wireless BT Headset worth ₹4,990/
Or
•25% Discount Coupon2 (applicable on WEBER / ECHOLAC Products)
http://bit.ly/3ZH8nTl
Products
Colors
Price
Discount
March Festive Season Offer Price
Buy & Explore Product
Venu Sq, Music
Black/Slate/Light Sand/Rose Gold/Navy/Light Gold/White/Slate
₹27,990/
₹7,000/
₹20,990/
http://bit.ly/3yg2ZuU
Venu Sq
Orchid/Metallic Orchid
₹22,490/
₹5,500/
₹16,990/
Venu Sq
Shadow Gray/Slate
₹22,490/
₹4,500/
₹17,990/
vivosmart 4
Black/Slate
₹14,990/
₹7,000/
₹7,990/
http://bit.ly/3Zrt7yM
Garmin March Festive Season: Eligible products
Forerunner 255: Designed for runners, the lightweight Forerunner 255 series of GPS running smartwatches comes with a plethora of features and insights. It also includes full triathlon support, new training metrics, enhanced smartwatch features (when paired with a smartphone) and more. The Forerunner 255S and Forerunner 255S Music are available in 41 mm sized cases while the Forerunner 255 and Forerunner 255 Music are available in 46 mm cases, making them ideal for runners. The smartwatches can last up to 14 days in smartwatch mode and up to 30 hours in GPS mode on a single charge.
Venu Sq2: It is equipped with all-day health monitoring, fitness tracking, and connected features. To offer consumers a more detailed picture of their active and healthy lifestyle, Garmin's Venu Sq 2 series offers a sleek rectangular watch face, with a 17% increased screen size (as compared to its predecessor), and a bright easy-to-read AMOLED display. The watch can run up to 11 days in smartwatch mode, the Venu Sq 2 and Venu Sq 2 – Music Edition enable users to monitor health metrics 24 hours a day, seven days a week, and gives a complete sleep quality analysis, stress, Body Battery™, and activity levels with new generation sensor. For those who want to take their music on the go, the Venu Sq 2 – Music Edition includes on-device music storage for up to 500 songs for phone-free listening.
Venu SQ: This watch features a bright colour display, the Venu Sq GPS smartwatch combines daily style with health monitoring and fitness features that inspire you to keep moving. It offers a battery life of 6 days, GPS functionality and 20 indoor and outdoor multi-sports modes including running, aerobics, yoga, swimming, weights, cycling, skiing, and golf built in. With this, the watch is also water resistant to a depth of 50m and helps track all day 24 Hr continuous Health monitoring, sleep monitoring, and menstrual cycle tracking.
Vivosmart4: This slim and smart activity tracker blends a fashionable design with stylish metal accents and a bright, easy-to-read display. Includes advanced sleep monitoring with REM sleep and can gauge blood oxygen saturation levels during the night with the wrist-based Pulse Ox² sensor. With a battery life of up to 7-Days, (excluding Pulse Ox sleep tracking), It also offers fitness and health monitoring tools which include wrist-based heart rate, all-day stress tracking, relaxation breathing timer, VO2 max and Body battery energy monitoring.
Please follow and like us: