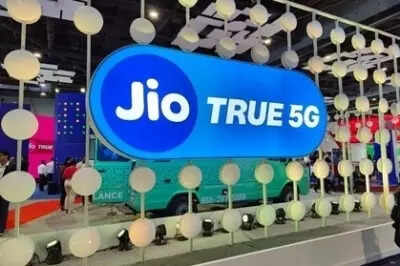 Mukesh Ambani-led telecom giant Reliance Jio has now launched its True 5G services in Jammu and Kashmir. With this launch, Jio users in Jammu and Srinagar can now access 5G services. Jio True 5G services were launched by the Union Territory's Lieutenant Governor Manoj Sinha at Raj Bhawan in Jammu. Apart from J&K, Jio's 5G services have gone live in 25 additional cities across the 12 states. Jio users can now access the technological advantages of high-speed internet, low latency and standalone True 5G services which is now available for both people and businesses in these cities.
Importance of 5G
At the launch event in 2022, Jio demonstrated the benefits of 5G and the application of this technology in the fields of healthcare, education and other important sectors in India. The company's AR-VR device, Jio Glass also offered a glimpse of the advancement that will be seen in these areas at the event.
Read J&K Lieutenant Governor's comments
J&K's Lieutenant Governor Manoj Sinha said,
"I am delighted to announce the launch of Jio True 5G services in the Union Territory of Jammu & Kashmir. 5G will bring transformational benefits to the people of Jammu & Kashmir and further the objective of the Government to realize our honourable PM's Digital India vision.
With the launch of Jio's True 5G services, Jammu & Kashmir is not just getting the best telecommunication network but will also get infinite growth opportunities in the areas of tourism, e-governance, agriculture, education, healthcare, IT and the SME business. 5G will also enable citizens and the Government to remain connected on a real-time basis and will assist & improve the implementation and efficacy of Government schemes in reaching the last mile user.
The digital Jammu & Kashmir mission of the Government has a special focus on the startup ecosystem, e-governance, Agriculture, Social Welfare, Youth, Education and Healthcare to name a few. The advent of Jio 5G services in the Union Territory will give a great boost to these initiatives."
We are excited to launch Jio True 5G in Jammu and Srinagar. By December 2023, Jio True 5G will cover every town of Jammu & Kashmir. This is testimony to Jio's commitment towards the Government's priorities. Jio has provided employment to more than 36,000 people directly and indirectly in Jammu & Kashmir. This launch is an important milestone for the people of Jammu & Kashmir who will benefit immensely from Jio's 5G services. We are grateful to the Government for their continuous support in our quest to digitize Jammu & Kashmir.
Additionally, we are happy to announce the launch of Jio True 5G services in 25 additional towns across 12 states in the country, taking the benefits and reach of Jio's True 5G services to 304 towns across the nation. We want every Jio user to enjoy the transformational benefits of Jio True 5G technology in 2023."
Jio Welcome Offer for more users
Jio users in these 27 towns have also been invited to the Jio Welcome Offer, to experience data at up to 1 Gbps+ speeds, at no additional cost. Here's the list:
Please follow and like us: