The biggest problem these days with all the modern devices and different platforms is thay usually don't go along well with each other, especially when it comes to sharing files, documents, media, etc.
Now, every platform has its own implementation of file sharing protocol and they only communicate with other devices in the same platform. For instance, Apple has AirDrop that works with all the Apple devices. Similarly, Samsung has QuickShare that's designed to do the same for devices in Samsung's ecosystem. Now Android and Windows too have Nearby Sharing and Nearby Share features that basically do the same thing. However, one thing common between all of them is they only work in their own territory.
Microsoft found a solution to this problem with Edge Drop feature and has finally rolled it out to the stable build of the web browser after testing it for several months in beta channel.
Here we've explained Edge Drop, how it works and everything else you need to know about it.
Edge Drop: What is it and how is it different from other solutions
Edge Drop is a file sharing feature built right into the Edge browser that allows users to share files, multimedia content, documents, etc between devices. In fact, it goes a little further by offering users the option to share notes and screenshots across devices.
What makes Edge Drop different from other platform specific solutions is that it allows users to share data irrespective of the platform and access them anywhere they want. So, users can simply use the Edge Drop feature to share anything and access them across their devices including PC, tablet, iPad, iPhone, etc.
Edge Drop: How it works
This is what separates Edge Drop from other solutions. Take AirDrop for example. It requires Wi-Fi access or local connectivity between the devices to transfer the files. However, the Edge Drop is a cloud-based solution and relies on OneDrive and Microsoft account to transfer data between the devices. What this means is that when a user shares files or anything else via Edge Drop it gets uploaded to OneDrive and then it is available to download across devices via Edge browser linked to the same Microsoft Account. This also means everything shared via Edge Drop takes up OneDrive space. What this also means is the feature is usually limited to 5GB only as Microsoft offers only 5GB of free cloud storage with its account. But users have the option to buy more storage space like other cloud services.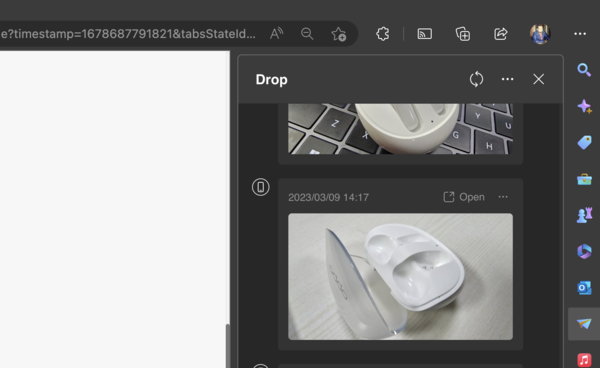 Edge Drop: How to get the feature
Edge Drop is a part of Edge Sidebar that also includes other services and apps like search, WhatsApp, Apple Music, YouTube, etc. The feature is now rolling out with the latest Edge 110 update. So, make sure to install the latest version available.
Now, head to Edge Settings → Sidebar → Show Sidebar → Customise Sidebar — Enable Drop toggle.
That's it. Click on the Drop icon from the sidebar and then start sharing notes, documents, files and anything else you want to.
To access files shared, simply open Edge on another device and you'll either receive a notification for the same or simply open Drop to find the files. Just make sure that both devices are connected to the internet.
How Edge Drop solves cross-platform files sharing problem
As explained, Edge Drop shares files via OneDrive and any Edge browser that's linked with the same Microsoft Account will be able to receive the shared data irrespective of the device or the platform. Imagine it like an instant messaging app that let users share text, files, documents, etc and all of them can be accessed on any device via that app logged into the same account. Edge Drop works in a similar fashion.
Please follow and like us: