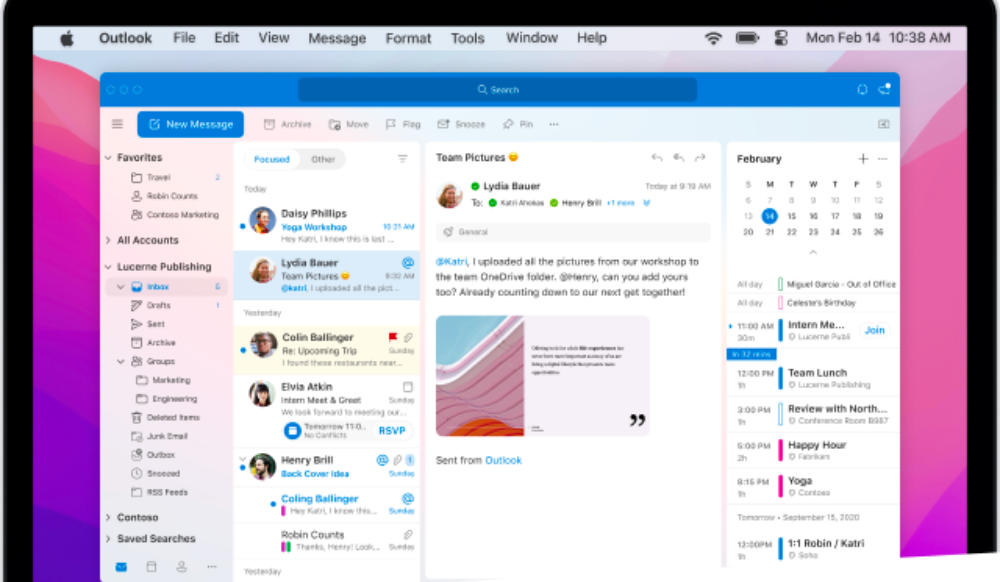 Microsoft has decided to make Outlook for Mac available for free usage. The email client of Microsoft can now be found for free on the App Store for Mac. Also, users are no longer required to have a Microsoft 365 subscription or Office licence to access it.
Microsoft revamped its email client for Mac, optimising it for Apple Silicon. The macOS version of Outlook features a calendar entry widget and seamless integration with the notification centre. Additionally, the mail client on Mac supports handoff with iOS, allowing easy task transition between your iOS and Mac devices.
Outlook for Mac now offers support for various email providers, including Outlook.com accounts, Gmail, iCloud, Yahoo, and any email service that features IMAP support. Moreover, the app offers an all-mailbox search and the ability to view all the inboxes at once.
Microsoft's email client on macOS offers a secure sign-on feature, which provides enterprise-grade security to safeguard your identity and protect your email, calendar, contacts, and files.
One can create Outlook Profiles, which connect email accounts to Focus. Furthermore, on macOS, users get Outlook's Focused Inbox, message prioritisation options, and customizable folder management tools to help users manage their inboxes more efficiently.
To download Outlook for Mac, head to the App Store and search for Outlook, click the Get button, and then Install.
Microsoft's unified app for Outlook on Windows under development
Microsoft is also working on combining the Windows Mail app and Outlook for Windows into a single email client called "One Outlook.". The app is said to be a web-powered version, which functions as a Progressive Web App and will also be free of charge, much like Windows Mail. The new client is intended to support various email providers, similar to Outlook for Mac.
Outlook One has been under testing on Windows for a while, but this web-based app is not yet available to all users. However, the preview version is accessible to Microsoft 365 Insiders with a valid subscription.
Please follow and like us: