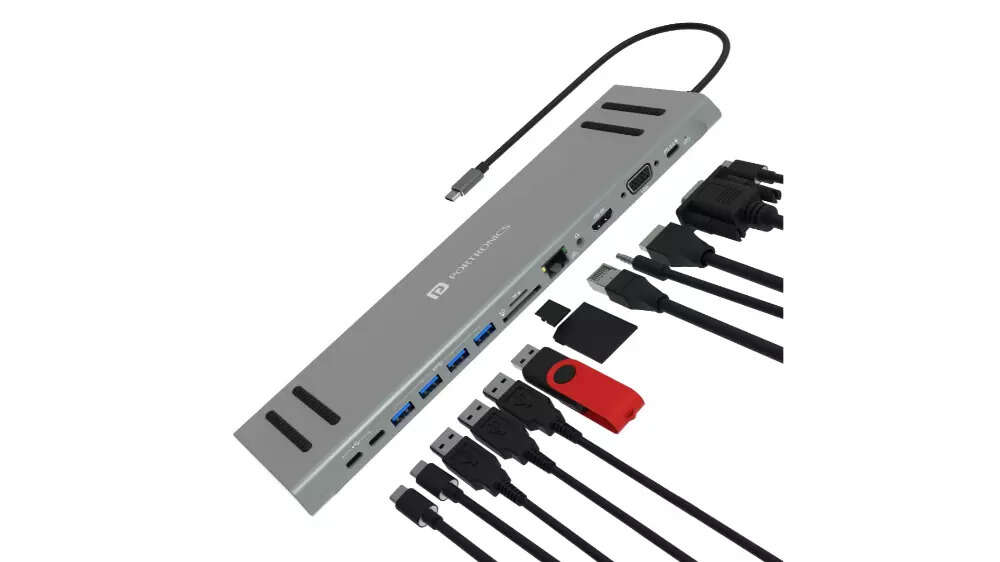 Portronics has expanded its product portfolio with a new laptop docking station named Mport 13C. This accessory is a 13-in-1 USB-C docking station which is supported by MacBooks and Windows laptops. Expensive lightweight laptops like MacBook don't include important ports like — HDMI, Ethernet, or even standard USB ports. Other brands are also eliminating most communication ports to reduce the overall size, thickness, and weight of a laptop to make it highly portable and lightweight. The USB-C/Thunderbolt port or two is what users are left with. To get standard ports, users have to purchase expensive adapters, which are not convenient.
Portonics Mport 13C: Pricing and availability
The Portronics Mport 13C USB-C Docking Station is available in the market at a discounted price of INR 3,999 (actual price Rs 7,999) which is backed with a 1-year warranty. Users can purchase this product from the company's official website Portronics.com, Amazon, Flipkart and other leading online and offline stores.
Portonics Mport 13C: Key features
The Mport 13C has 13 ports that allow for simultaneous communication using a single USB-C or Thunderbolt Port on a laptop. The dock supports multiple USB ports including USB-C and PD, dual display ports, flash card slots and an RJ45 Ethernet port. Two USB-C ports and four USB 3.0 ports are available for high-speed data transfers. Users can also connect older devices such as keyboards or mice, or can plug in the latest high-speed external storage drives.
For a stable internet connection, there's also a high-speed 100mbps Ethernet port. If you need to switch from your laptop screen to your projector or need to use a multiple monitor setup for your desk, you can plug in your monitor to either the VGA or HDMI port. Users can also stream audio to their desktop speakers with a 3.5mm audio jack, transfer media files using the SD/TF Card slots, and more. Users can also charge their laptops while the dock is connected to Thunderbolt 3 / PD Pass-through port that can support up to 87W chargers.
The Portronics Mport 13C is a multi-port accessory for laptops and MacBooks. It is built using a strong anti-scratch aluminium-magnesium alloy body and designed with a shape that also doubles as a laptop stand that not only allows for convenient working by placing your laptop at an angle, but also helps cool your laptop with efficient air intake from the bottom. The docking station also sports rubber feet for better grip on your desktop.
Please follow and like us: