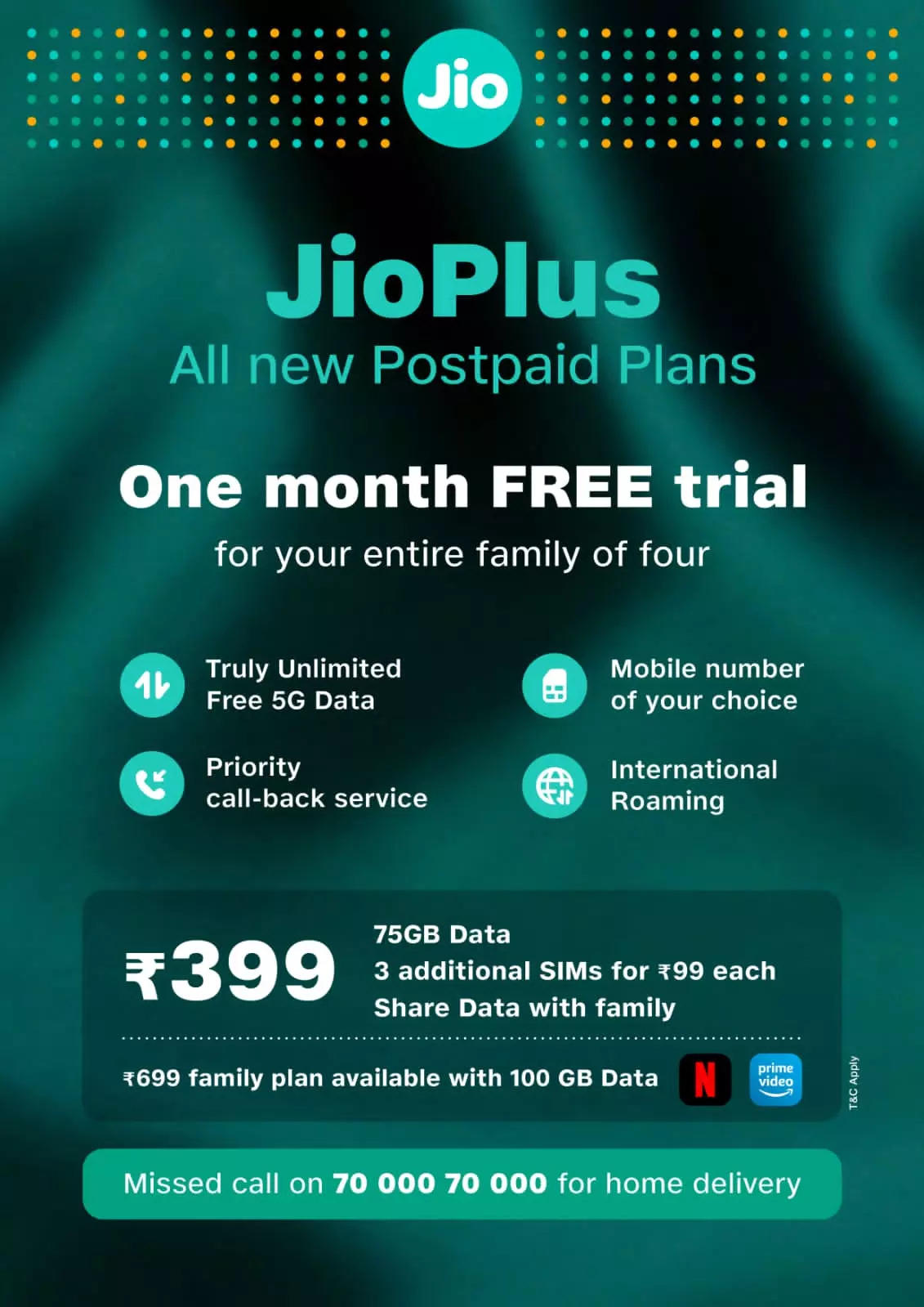 Reliance Jio has introduced a new set of postpaid Family plans — Jio Plus — for its customers. The new postpaid plans allow users to add up to 4 family members under a single plan at no additional cost.
Jio Plus Family postpaid plans
: Benefits
As a part of new family plans, Jio is offering users to add up to four members and get a single bill for the entire family. Apart from that, it also let all the users share data, content apps and more.
Reliance Jio is also allowing users to cancel the connection at any time, no questions asked in case they aren't satisfied with the value proposition of their Jio Plus plans.
Jio Plus Family postpaid plans
Reliance Jio has introduced two plans under Jio Plus Family Postpaid plans. The base plan costs Rs 399 and the second plan is priced at Rs 699.
Jio Plus Rs 399 Family postpaid plan
The Rs 399 postpaid plan comes with unlimited calling, 75GB data and unlimited SMS. Also, this plan offers users the option to add-on three additional SIMs under a single plan. The plan does not come with any additional subscription to OTT services.
Jio Plus Rs 699 postpaid plan
This plan comes with unlimited calling, 100GB data and unlimited SMS. Apart from these, the plan also comes with Netflix and Amazon Prime subscription.
Additional benefits for add-on members
Reliance Jio is offering an additional 5GB data to each family member paired under a single plan.
Additional charges you should know about
A processing fee of Rs 99/SIM will be charged during activation. Also, add-on family SIMs to be charged at Rs 99/month post free trial.
How to get Jio Plus postpaid plans
Users can simply give a miss call on 7000070000 and then use WhatsApp to choose the relevant plan and get security processed.
Book free home delivery of your postpaid SIM
During home delivery, do not forget to get 3 more Family SIMs for your family
Pay Rs 99 per SIM processing fee
Once the master family SIM is activated, link the 3 family members to your account
Using MyJio app, to start sharing benefits absolutely free.
Please follow and like us: