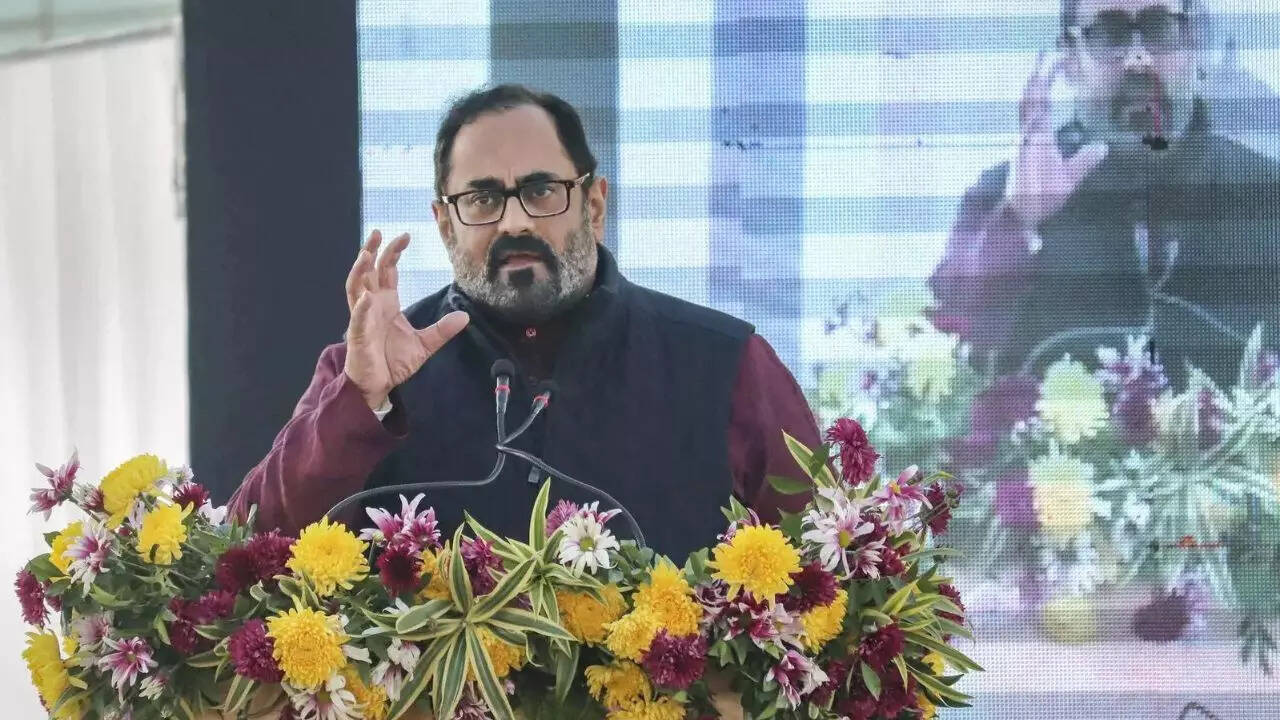 A day after a media report claimed that the government is planning screening of major operating system updates under proposed new security rules, the IT minister Rajeev Chandrasekhar has denied the report. In a tweet, he termed the report "plain wrong".
What was the report about
In a report, news agency Reuters claimed that the government plans to force smartphone makers to allow the removal of pre-installed apps and mandate screening of major operating system updates before it is rolled out to consumers.
"Under the new rules, smartphone makers will have to provide an uninstall option and new models will be checked for compliance by a lab authorised by the Bureau of Indian Standards agency," the report said, adding that the move aimed at ensuring users' data is not spied upon.
Story is plain wrong, says IT minister
Hours after the report surfaced, union minister of state for electronics and technology Rajeev Chandrasekhar, tweeted that the story is wrong and there is no "security testing" or "crackdown".
"This story is plain wrong – there is no 'security testing' or 'crackdown' as story suggests. Story is based on lack of understanding perhaps [an] unfettered creative imagination that is based an ongoing consultation process btwn [between] Ministry n Industry on mobile security guidelines of BIS Standard IS17737 (Part-3) 2021," the minister said.
For those unaware, the BIS Standard 17737 (Part 3) defines security levels, the security requirements and applicability of these security levels for security assessment, evaluation and certification of mobile devices.
"@GoI_MeitY is 100% committed to Ease of doing Business n is totally focussed on growing Electronics Mfg to touch USD 300Bln by 2026," Chandrasekhar added.
IT ministry, industry working on guidelines: ICEA
Meanwhile, ICEA, the apex industry body for the mobile and electronics industry, said that the IT ministry is working closely with the mobile industry to implement security guidelines in line with the Bureau of Indian Standards (BIS).
Pankaj Mohindroo, Chairman, ICEA, noted that the Ministry of Electronics and Information Technology (MeitY) is working closely and in a deep consultative mode with ICEA and industry to implement mobile security guidelines as per the already issued BIS Standard IS17737 (Part-3) 2021.
"MeitY has been holding active consultations with the industry to roll out guidelines for device manufacturers to adopt this standard. BIS also has to come up with the testing procedure and the required infrastructure of labs and certification of these labs which are capable of testing the devices as per the BIS standard," Mohindroo told IANS.
Industry and MeitY have agreed that there will be "sufficient time for compliance for device manufacturer/brand owners till the required lab infrastructure is in place to the satisfaction of the industry so that it should not affect ease of doing business in any which way".
Please follow and like us: