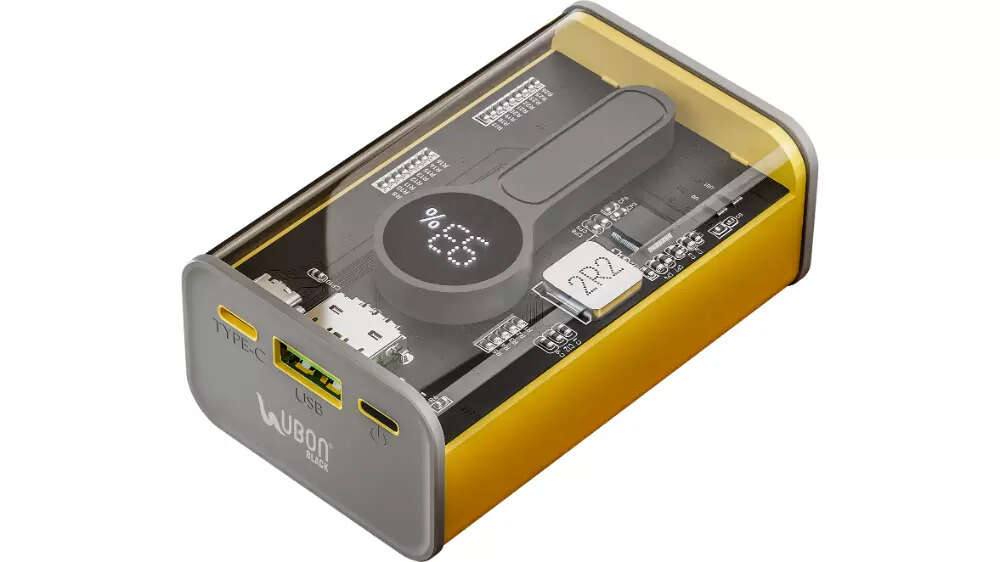 Domestic consumer electronic brand Ubon has unveiled the new PB-X35 transparent power bank. The company claims its latest product to be India's first transparent power bank. The accessory packs a 10000mAh battery unit. Ubon also claims that this 22.5-watt power bank will help users to charge their phones faster than other ordinary power banks. Here are all the details about the new product:
Ubon PB-X35 power bank
: Price and availability
The Ubon PB-X35 transparent power bank is priced at Rs 3,699 and is available at the company's official website, Ubon.in.
Ubon PB-X35
power bank: Key specs and features
This power bank comes with twin input charging connectors (TypeC/V8) and a 2.0A output charging port. The lithium polymer battery claims to support fast charging technology as well as long battery life. This allows customers to charge two devices simultaneously.
To ensure the safety of both the charger and the devices, the product also has overheating protection, short circuit protection, and overcharge protection. This allows the power bank to work with a broad variety of gadgets, including tablets, cameras, headphones, Android devices and other type C-enabled devices.
Ubon PB-X35 also has a compact design that claims to fit easily inside a palm or in the carry bag that comes along with it. The transparent design gives consumers a brief look into power bank mechanisms for interested users.
Furthermore, the combination of high battery capacity and small design promises to make it a good alternative for users who spend a lot of time travelling and tends to run out of battery frequently. This power bank also has a 2-in-1 Type-C USB port.
Commenting on this launch, Ubon's MD Mandeep Arora said, "In 2023, we at UBON are committed to our promises of providing the best product at pocket-friendly prices. To live up to our promise, we have expanded our product line with the launch of the PB-X35 transparent power bank and coming soon with many versatile and stylish products from the stable of Ubon that will not only upgrade the style quotient but will also promise an unmatched quality for our young users".
He further added, "The newly launched power bank is fully loaded with features and gives a quick and safe charging experience."